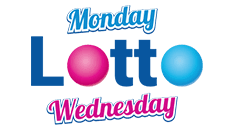 Closing in 138783
A$ 1,000,000+

Draw result Mon & Wed Lotto
Coming soon
The broadcast recording of the draw is not yet available. Please visit this page later.
Latest results of Monday & Wednesday Lotto
Monday & Wednesday Lotto is held in Australia twice a week: on Mondays and Wednesdays. It's interesting to note that this game raffles four major prizes in each draw. In addition, the lotto offers you great chances to win a whopping prize thanks to the "match 6 numbers out of 45" scheme.
Check the ticket of Monday & Wednesday Lotto in this section. In the table above you can see 6 prize categories represented by Monday & Wednesday Lotto, 3 of which are formed by a supplementary ball. The famous Australian lottery offers a large amount of money even for the second important prize.
For your convenience, we'll send you the results of this inexpensive and reliable state lottery by email. The prize of Monday & Wednesday Lotto will be credited to your personal account on our site.