Back
Why do I need the Subscription?
Subscription allows you to reserve participation in several subsequent draws of a certain lottery. It is convenient: with this option, you don't need to make entries over and over again before each draw. In addition, you will get each tenth ticket for free!


How does it work?
Pick 10, 25, 52 or 104 draws to take part in and the correct amount will be automatically deducted from your account's or card's balance. Once a draw is completed, you will be automatically entered into the next draw, so your card will be charged for the following draw once the previous one is closed. One and the same pre-picked combination of your lucky numbers will be used in these draws.


How to enable the Subscription?
If you would like to enable the Subscription, just follow the simple instructions:
Go to the lottery page.
Fill out the electronic ticket form following the small tips on the left.




Pick the type of participation: just tick the option "Subscription" right under the ticket form.




Pick the number of draws in which you will take part. You can pick 10, 25, 52 or 104 draws right away.
Click on the "Confirm" button, pick the appropriate payment method from the list of offered and complete the payment.

Please note! The Subscription will be active either until all the draws under this option are over or until you disable the option manually. While the Subscription is active, the money for tickets will be automatically deducted from your account.


How to disable the Subscription?
If you would like to disable the Subscription, follow the instructions:
Go to the "My entries" section of your personal account.




In the list of the entries, find those that are made under this Subscription. All the entries made under the Subscription are indicated by the symbol .




Go to the page of one of these entries. Please pay attention: if you have enabled several subscriptions of one and the same lottery (for example, subscriptions to the same draws, but with different combinations of numbers), you need to disable each subscription individually through the pages of the relevant entries.
Click the "Disable Subscription" button and confirm your action.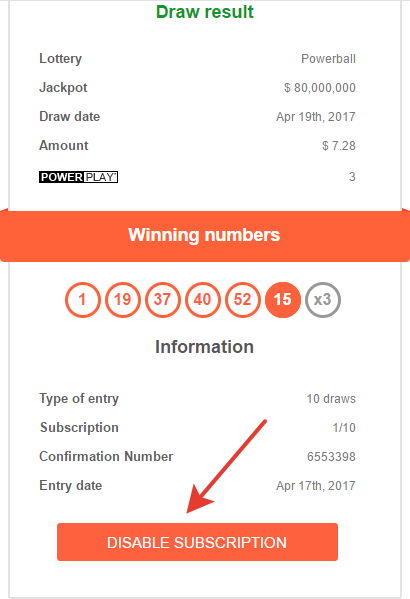 What should I do if I have insufficient funds?
Your account's balance is used to pay for entries on a first-priority basis; then we use the funds available in your card's balance if it has been added to your account. We are unable to complete your entry if both of these accounts have insufficient funds.

Five hours after the first attempt, we will try to complete your payment again. If the first attempt fails, two more payment attempts at an interval of five hours each will be made. If we fail to deduct money over three attempts, the "Subscription" option is canceled. To avoid this, please top up your account in time or keep the balance of your card refilled.
Why Lotto Agent?
Easy payments

Security

Best deals

24/7 Support